Britannia 50p Coin
Britannia seated beside a lion facing right. An emblem of strength, dignity and unity, Britannia has a long history with Great Britain and it's coinage, first appearing on coins in the Roman era. Roman Britannia came to be personified as a goddess, armed with a trident, shield and wearing a Corinthian helmet.
Buy this coin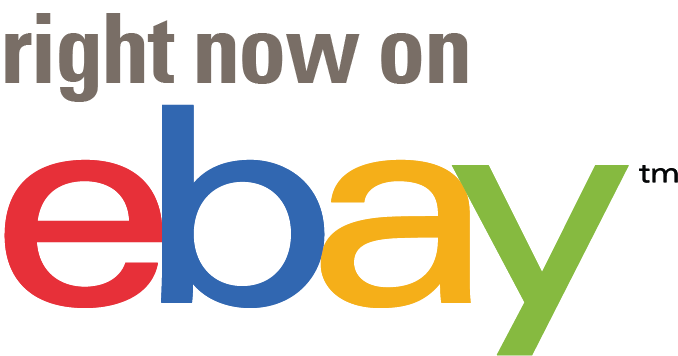 Buy the Britannia 50p
right now on eBay.
Royal Mint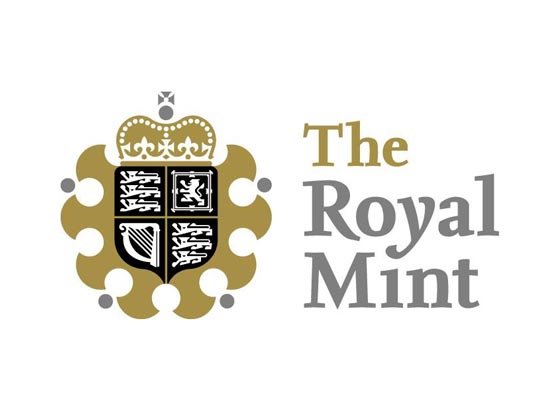 Buy Britannia 50p from
Royal Mint Coin Shop
Britannia 50p Reverse Image
Britannia 50p Obverse Image
Britannia 50p Mintage Figures
How rare is the Britannia 50p?
Britannia 50p Mintage Figures
| | |
| --- | --- |
| Circulated | 805,926,100 |
| Rare Coin Score | Very Common |
Britannia 50p Coin Details
Britannia 50p Coin Specification
| | |
| --- | --- |
| Year | 1997 - 2008 |
| Reverse Designer | depends on the year of issue, see below |
| Obverse Designer | Christopher Ironside |
| Issued By | The Royal Mint |
| Issue Date | Smaller version introduced September 1997 (Larger version introduced October 1969, demonetised in 1998) |
| Alloy | 75% copper, 25% nickel |
| Metal | Cupro-nickel |
| Quality | Circulated |
| Diameter | 27.30 mm |
| Weight | 8.0 g |
| Edge | Plain |
| Krause Number | 991 |
Great British Coin Hunt 50p
The Britannia 50p is coin number 1 in the Great British Coin Hunt 50p Collector Album (Volume 1)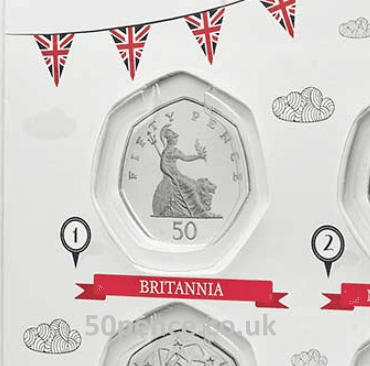 Britannia 50p 2019 Coin Set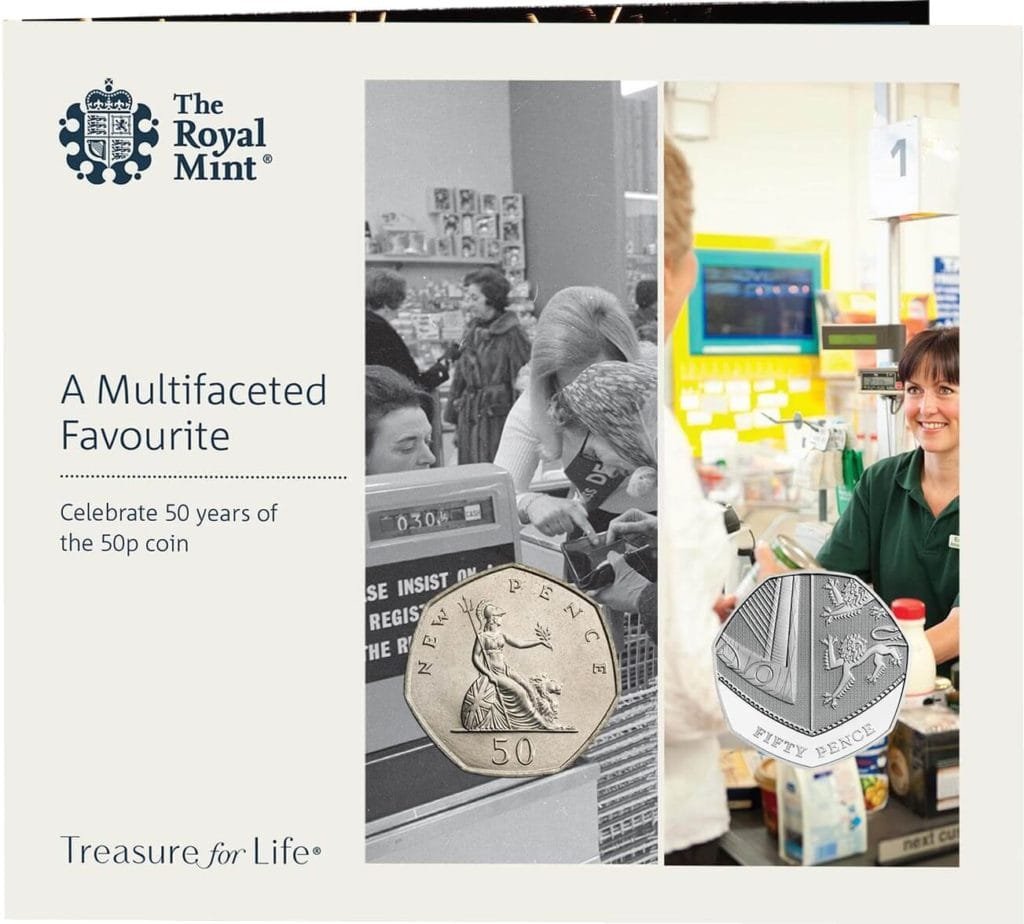 To celebrate the 50th Anniversary of the 50p, the Royal Mint has released a 2-coin 50 pence set featuring a Britannia 50p and Royal Arms 50p in a presentation pack.
The Britannia is an original 1969 50 pence piece in a minimum of Very Fine condition.
Buy it now direct from the Royal Mint Coin Shop
Strike Your Own Britannia coin!
Strike Your Own Coin is a special treat you can enjoy during The Royal Mint Experience – a lasting memento of your visit to the Royal Mint.
Did you know that the last time the design featured on a UK circulating coin was in 1982?
Strike your very own 50 new pence coin at the Royal Mint Experience or buy right now on eBay.
Available for a limited period in early 2019, don't miss out and book your visit now.
Bring your Britannia 50 new pence to life with Augmented Reality!
Strike your own Britannia 50 new pence as a unique memento of your visit to The Royal Mint Experience.
Did you know?
The Britannia 50 New Pence is the first ever Royal Mint product to feature augmented reality.
You can scan the green sticker on the packaging using the Zappar SmartPhone APP (get it at the AppStore or Google Play)and discover the full story behind the coin.
The only way to purchase this coin is by striking your own at The Royal Mint Experience
The last time this design appeared on a UK circulating coin was 1982
The first time this design has appeared on a UK Coin with the latest portrait of the Queen
2008 Britannia 50p, is it a rare coin?
British Coin hunters look for the 2008 Britannia during their Great British Coin Hunt activities, as this is considered the rarest one in general circulation.
Our research shows 3,500,000 coins were minted in 2008 of the Britannia reverse design with the IRB (see initials in picture) design of The Queen (see below for more details).
How many Britannia Coins were made?
Mintage by Year
| | |
| --- | --- |
| 1997 | 456,364,100 |
| 1998 | 64,306,500 |
| 1999 | 24,905,000 |
| 2000 | 27,915,500 |
| 2001 | 84,998,500 |
| 2002 | 23,907,500 |
| 2003 | 23,583,000 |
| 2004 | 35,315,500 |
| 2005 | 25,363,500 |
| 2006 | 24,567,000 |
| 2007 | 11,200,000 |
| 2008 | 3,500,000 |
| Total | 805,926,100 |
What does it look like?
See video:
Portraits of Her Majesty Queen Elizabeth II
The 50p has had a few changes to the Obverse design of Her Majesty the Queen over the years plus the text "ELIZABETH·II D·G·REG·F·D·(date)"
1985 to 1997 featured a portrait designed by Arnold Machin
1985 to 1997 the coin used a portrait by sculptor Raphael Maklouf showing her dressed in the royal diadem which she wears on her way to and from the State Opening of Parliament
1998 to 2015 the coin featured a more realistic and less idealised portrait by Ian Rank-Broadley (sometimes his initials, IRB are seen on coins)
2015 to today the 50p piece, like all other UK coins, has been struck featuring the latest effigy of The Queen, designed by Royal Mint coin designer Jody Clark (sometimes her initials, JC are seen on coins)
Some were released with one design for the circulated coins and another for the Proof coin sets.
New Pence or Fifty Pence?
The classic Britannia 50p design which was used on 50 pence coins in circulation between 1997 and 2008, following which she was replaced with now familiar Royal Arms design.
This version is smaller than the original design introduced in 1969.
The larger version came into circulation in October 1969 until it was demonetised in 1998.
The larger version also has the words "NEW PENCE" rather than the modern "FIFTY PENCE".
First Seven-Sided Coin
The seven sides of a 50p coin where an innovation when it was first released.
The Royal Mint decided that a 7-sided (called an equilateral curve heptagon) coin made it easier to tell the 50p apart from the rest of the UK coinage, so the 50p became the world's first seven-sided coin.